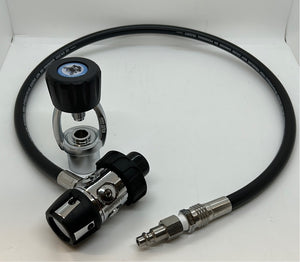 Lift Bag Inflator - Slow Fill
Regular price ¥1,256.00 Sale
This assembly is used for slow and controlled diver inflation of lift bags. Includes a simple piston first stage regulator (DIN) with yoke adapter, a 36" hose, and terminates with a SS male I ndustrial air fitting commonly used in this application.
The fitting can be fit to its female counterpart often found on enclosed pillow style bags or can simply be held beneath an open bottom bag. Feather the cylinder valve to add gas to the lift bag.
Filling lift bags through a first stage regulator dampens flow and allows precision control when approaching desired buoyancy.